Fair Lady Programs & Brands
Party
Celebrate with Kidz Kabaret!
Kidz Kabaret helps you celebrate special occasions with fun and creativity! Our outstanding venue and skilled party facilitators set the stage for a fantastic event. From one-of-a-kind birthday parties to unforgettable Sweet 16 parties, quinceanera parties and DJ-hosted celebrations, Kidz Kabaret helps you and your guests create moments they'll always remember.
Contact us to book your party today!
"Acting Out" Birthday Parties in Naperville, IL
Let your birthday child shine in the spotlight with an "Acting Out" party! Parties include rehearsals for an age-appropriate show where YOUR CHILD and guests get to be part of the performance. The birthday child gets the lead role or a role of their choice!
We offer a variety of shows to choose from: Monster High, Wizard of Oz, Harry Potter, Snow White, Beauty & the Beast, Frozen, Aladdin, High School Musical, Annie, Jungle Book, Little Mermaid and Disney Princess Party
Our birthday party package includes:
2½ hour party in our Celebration Room
30 minute performance at the end of the party – parents invited
Personalized party invitations via email
DVD of performance – great for thank you gifts! (optional for purchase)
Goody bags (optional for purchase)
Room available for setup 15 minutes prior to party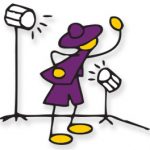 Birthday Party Package Cost
Only $299* (Member Price: $249*)
Price includes up to 15 attendees, additional attendees $10 each
Special Thanks to Our Sponsors!
Grants Provided by: